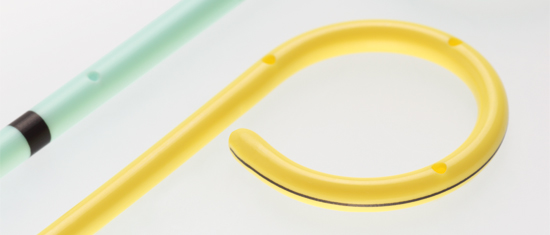 UROTECH offers a wide range of Ureteral Stents and sets for all kinds of standard and specialized applications including a large assortment of paediatric sizes. The White-Star and Green-Star stent lines excel with their versatile application focus (for long-term and short-term indwelling times). The Yellow-Star stent line with its unique and exclusive phosphorylcholine (PC) treatment represents a quantum leap in stent development.
Phosphorylcholine (PC) – modern treatment technology for highest standards
What is Phosphorycholine?
Phosphorylcholine is used as a biocompatible and permanent sealing of the implants surface, avoiding the formation of biofilms. Such a surface treatment on urological implants imitates the bipolar character of the physiological cell membranes thus leading to an improved bio- and hemocompatibility.
Successful PC treatment on urological devices for over 15 years
Phosphorylcholine is a biocompatible and durable sealing of the inner and outer surface of implants to prevent biofilm formation and subsequent encrustation.
For over 15 years, UROTECH has been using phosphorycholine successfully to treat urological devices. Phosphorylcholine verifiably lowers the risk of encrustations and infections, which results in prolonging the possible implantation period of ureteral stents*. The PC treated surfaces show, independent from the material, significant less adsorptions of bacteria. As a result, products treated with PC are highly suitable for long-term urological applications.
Ureteral stents treated with phosphorylcholine minimize:
significant stent associated morbidity

frequency of urinary tract infections

cost for accompanying medication (anticholinergics, antibiotics)
*Indwelling times depend on individual anatomic condition; continuous screening by physician is advised.